Custom Machine Translation (MT)
If you are a large organisation with extensive and regular translation requirements then Custom Machine Translation can really come in to its own. To benefit from machine translation you need a to have a sizable quantity of Translation Memory data readily available to process.
Machine translation is most successful when it is used for technical translations whether the industry is automotive, aerospace or industrial. Machine translation increases the productivity by providing a "first pass" translation before highly qualified human translators post edit the MT.
Productivity is vastly increased, whilst the price of translation falls…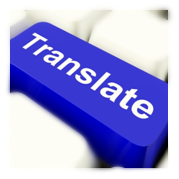 A bespoke machine translation is vastly superior and should never be confused with free and often inaccurate translation "engines" that are readily available on the internet. These engines are not anywhere near as sophisticated as bespoke machine translation solutions.
Tailored to your industry, tailored for your terms and corporate style.
Foreign Language Services have had Machine Translation fully functional for specific clients now for over two years, yielding great results in the top ten utilised languages. Creating bespoke solutions for our clients, we can have created MT engines which can reduce translation prices by 30%!
'Another way that FLS stay at the forefront of cutting edge translation technology'
Language Services Technical translation Documentation translation